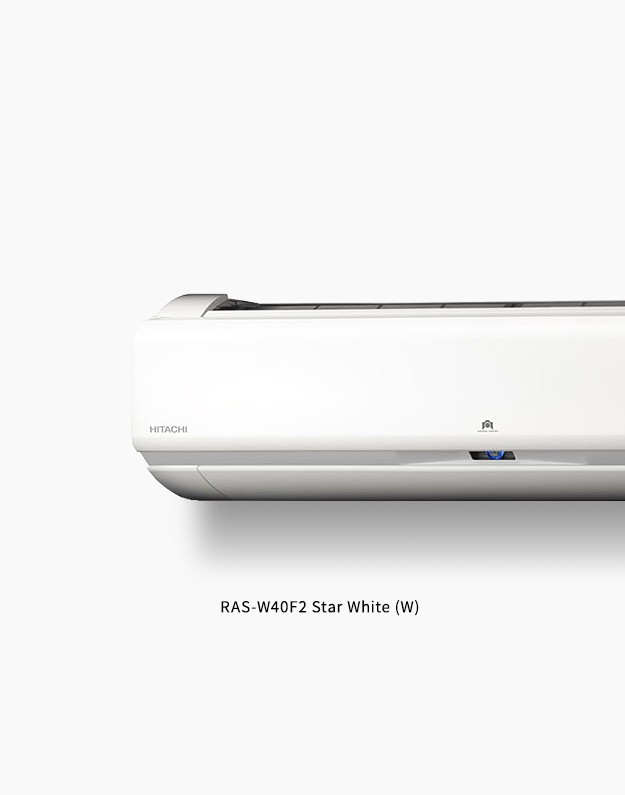 24cm-tall slim air conditioning indoor unit for small space
February 17, 2016 Johnson Controls – Hitachi Air Conditioning (JCH) [Products for Japanese market only]
Only for reference. This press release is for Japan market only.
RAS-W40F2 Star White (W) * The above image of remote controller is bigger than actual size in terms of its ratio to the indoor unit On March 30, Johnson Controls – Hitachi Air Conditioning (CEO: Franz Cerwinka) will release five models of the "Stainless Clean Shirokuma-kun" W series 24cm-tall air conditioning system designed to fit in small spaces such as soffit ceiling.
This series is as small as 24cm in height, made possible by modifying the shape of the heat exchanger for the indoor unit and improving the air current structure while maintaining the same level of energy-saving performance as conventional models(*1). It can be installed in small space, installation height 28.5cm (*2), such as on a window with curtain rail. Furthermore, it can be installed such as in a room with a soffit ceiling in installation height space 27cm (*2), if there is no obstructions below the indoor unit. Also featuring a smaller front panel for the indoor unit, its slim outward gives a sophisticated look.
The Stainless Clean Shirokuma-kun W series is also equipped with a "Kurashi Camera," an image camera that detects the number of people in the room along with their locations and behavior to keep the room temperature at a comfortable level.
Also featuring "Karatto Joshitsu" for dehumidification without lowering temperature(*3), and the "Ryokai" healthy cooling system providing reasonable cooling by controlling humidity, it is an enriched functions slim air conditioning system.
(*1) G Series (released in 2015)
(*2) A minimum 28.5cm height space is required which the pipe is drawn on the right side (above space 3cm, under space 1.5cm). It is possible to install a minimum 27cm height space which isn't obstructions under the indoor unit. (not necessary under space) However A minimum 0f 12cm of height space is required above the unit which the pipe is connected to the back side of the indoor unit.
(*3) Reheating system to prevent room temperature from dropping, as defined by the Japan Refrigeration and Air Conditioning Industry Association. (JRAIA) Conditions: Standards set by JRAIA. RAS-W40F2. Continued operation in a temperature-controlled room with outside temperature/humidity of 24ºC/80%, and indoor temperature/humidity of 24ºC/60%. Fan speed set at high, humidity set at 40%. Power consumption 550W, dehumidification capacity 960ml/h, outlet temperature 24ºC. * Power consumption and dehumidification capacity vary depending on usage conditions and the model. The set temperature/humidity may not be attained.
■Main features of the new product ["Stainless Clean Shirokuma-kun" W series room air conditioning system]
1.24cm-tall slim air conditioner ideal for small spaces
2.Equipped with "Kurashi Camera" to provide comfort by detecting the number of people along with their locations and behavior
3.Features "Karatto Joshitsu" for dehumidification without lowering temperature(*3), and the "Ryokai" healthy and comfortable cooling system providing reasonable coolin
■Models and availability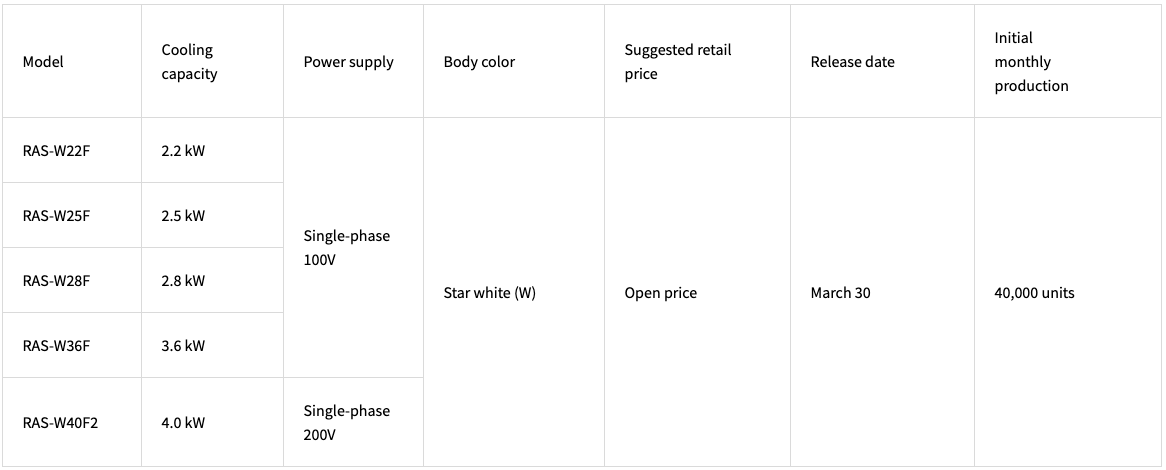 In bedrooms and kids' rooms, air conditioners are often installed above the window. Space above windows is limited because of curtain rails and curtain boxes. There are limitations on the size of conventional air conditioners in rooms with soffit ceiling and high windows often found in apartment houses (based on JCH's investigation). The new W series addresses the space limitations by utilizing a slim indoor unit that is as small as 24cm in height.■Demand and background of development
■Customer inquiries
Customer Center: Tel 0120-3121-11 (toll-free)
Open: 9:00 a.m. – 5:30 p.m. (Mon – Sat), 9:00 a.m. – 5:00 p.m. (Sun, holidays)
[Except for year-end and New Year holidays]
■Room air conditioning system website
by Hitachi Cooling & Heating
17 Feb 2016